The illumination talent in your desired way and places in the thinned profile of the acrylic drawn with laser in special forms will add color to your life.
SONLED FLYING LINEER VERTICAL LIGHTS

SONLED used the surface treated with LGP technology vertically in this product. The product attracts attention in the space used and gives a new dimension to lighting. The patterns used on it can be evaluated according to your taste and decoration. It also carries the perception of depth and size to a different dimension in the area used. SONLED offers 4 different patterns for this product.
SONLED has incorporated products into its structure using the technique called light guide panel, which is shortly called LGP (light guide panel). This is the laser scanning technique on the acrylic surface. With this technique, the desired pattern or logo is engraved on the acrylic surface and the glow creates moire over this scanned surface. Thus, the processed pattern provides transmittance on the surface, allowing the image to emerge. Its workmanship is quite laborious, but the resulting work is excellent. Creates a remarkable decorative visual feast.
Electrostatic powder painted metal body. The desired light temperature can be achieved in the space with plexi, polystyrene, polycarbonate and polypropylene materials in the lighting center. Patterns are processed with a special laser technique. When the illumination is provided, the pattern provides a very nice view thanks to the reflected lights. It is compatible with DALI and DMX. Dimmer and Emergency Kit can be applied. The product can also be designed as recessed, ceiling or suspended.
SONLED FLYING LINEER VERTICAL LIGHTS Models

SONLED FLYING LINEER VERTICAL LIGHTS Application

CEILING
RECESSED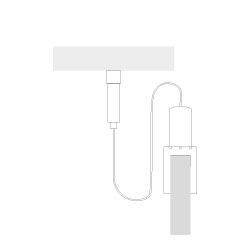 SUSPENDED
DIMENSIONS (cm)
POWER
Watt
LUMINAUS
(Lumen 4000K)
LIGHT COLOURS
(Kelvin)
EFFCIENTLY
Lumen/Watt
CLOUR TOLERANCE
CRI
SU-SS-SA
510
 10
850
2700
3000
4000
6500
106
110
115
115
MacAdam
3
>80
1010
20
1700
1510
30
2550
2010
40
3400
3010
60
5100
*The technical values in the table, may change depending on the development of LEDs and equipment.