MODERN ACRYLIC CHANDELIERS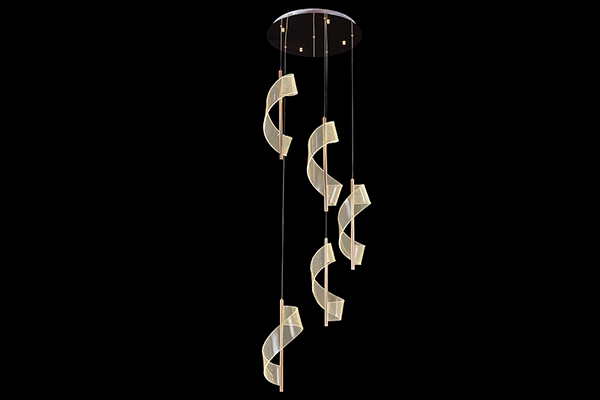 Chasis: Steel sheet body with electrostatic powder coated
Engraved by galvo-laser acrylic (PMMA)
LED & Driver: Samsung, Osram, Tridonic, Philips, MeanWell, Eaglerise etc.
Option: Intelligent systems (DALI-DIM) and emergency kits

MODERN ACRYLIC CHANDELIERS / MAC-SP-SU-5
MODERN ACRYLIC CHANDELIERS are preferred solutions in many architectural applications due to their flexibility, excellent performance, aesthetic appeal and being usable in almost any space. Pendant, wall aplique, floor lamp and table lamp versions are frequently used by lighting designers in projects due to their aesthetic appearance and ease of application. The fact that they can be produced in different numbers and forms allows lighting designers to create unique designs in the field of application. High efficiency LEDs and special galvo-laser scanning effects on acrylic add dynamism and style to the light. The use of light colors in different temperatures from warm white to cool white, and the creation of atmospheres suitable for the biological rhythm of a person with lighting controls such as DALI and DIM are just a few of the options that make MODERN ACRYLIC CHANDELIERS preferred.
2700K-3000K-4000K, 220-240VAC-50/60Hz., MacAdam 3, CRI>80
Model
Power (W)
Lumen (lm)
Efficiency (lm/W)
Color (K)
Input Voltage (VAC)
SDCM
CRI (Ra)
MAC-SP-SU-1
12W
1020
85
2700K
3000K
4000K
220-240VAC
MacAdam3
>80
MAC-SP-SU-2
24W
2040
85
MAC-SP-SU-3
36W
3060
85
MAC-SP-SU-4
48W
4080
85
MAC-SP-SU-5
60W
5100
85
MAC-SP-DT
24W
2040
85
MAC-SP-AP
12W
1020
85
MAC-SP-DL
12W
1020
85
MAC-SP-LD
24W
2040
85
Lumen values are given for 4000K light temperature. Technical values may change depending on the development of LED and equipment.
Width: 500mm / Height: 1500mm