Frame: Non-Flammable ABS
Reflector: Non-Flammable ABS with metallize coated
LED & Driver: Samsung, Osram, Tridonic, Philips, MeanWell, Eaglerise
Option: Intelligent systems (DALI-DIM-Triac) and emergency kits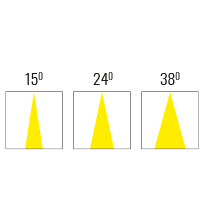 SPOT LIGHTS / SPOT ROUND CE
Spotlights are a widely used solution for interior lighting because they can integrate perfectly into any context and adapt to any style, from classic to modern.
Each type of spotlight is designed to meet special lighting requirements. The structure can be made of different materials able to withstand the heat of the lamp and the weight of the spotlight itself. Unlike the diffused one, allows to direct the light in precise points, enhancing every space and enhancing the furniture, details and particular objects.
Spot series makes it a practical and modern design solution for a perfect lighting with its screwless and easy assembly feature. While different alternative lights are produced with COB LED, they are easy to use with their compatibility with the GU10 socket system.
Power (W)
Color (K)
Lumen (İm)
Efficiency (lm/W)
Input Voltage (VAC)
Current (mA)
SDCM
CRI (Ra)
8W
2700K
750lm
93lm/W
220-240VAC
200mA
MacAdam 3
>80 / >90
8W
3000K
800lm
100lm/W
200mA
8W
4000K
850lm
106lm/W
200mA
8W
6000K
900lm
112lm/W
200mA
11W
2700K
950lm
86lm/W
250mA
11W
3000K
1000lm
91lm/W
250mA
11W
4000K
1050lm
95lm/W
250mA
11W
6000K
1100lm
100lm/W
250mA
The technical values in the table, may change depending on the development of LEDs and equipment.
Technical Drawings & Dimensions